Ultra soft and high-quality T-shirts for the connoisseurs
GoudronBlanc makes great T-shirts, especially if you are picky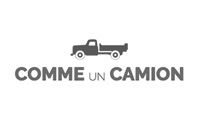 These magazines and fashion blogs hqve enjoyed the GoudronBlanc quality
Well-fitted T-shirts,
in stylish colours
The V-neck T-shirt
Always elegant with its shallow V-neck
The crew neck T-shirt
The classic one that suits you for any occasion
The long sleeves
Great to keep warm or to wear under a blazer
GoudronBlanc, a look
on style and quality
Responsibly small
GoudronBlanc is a small family company founded in 2011. We just do a few things, so we can do them very well.
Each collection is launched in limited edition. Every time we create a new T-shirt, we only make small batches.
This responsible approach allows us to pay close attention to quality in order to offer you T-shirts and polo shirts that last for a long (very long) time.
Designed in Paris. Made in Portugal. 100% organic cotton.
Fashion without the fuss
We create clothes that are accessible and easy to wear, far from the hype and the ephemeral.
At the office, with your family or when you're going out with friends, GoudronBlanc is there to make you feel good and sharp, every day.
Our T-shirts and polo shirts go with all kinds of styles. And each colour is designed to be easy to match with your favourite outfits.
Clothes for every day and for a long time.
Explore the GoudronBlancs
The GoudronBlanc, a unique design
Here are five ways you can identify the iconic GoudronBlanc T-shirt, at a glance:
Notice how the T-shirt is designed. An athletic fit that makes you look sharp without putting too much thought into it.
Look at the V-neck. It is elegantly shallow. That is because deep V-necks are not chic.
Feel the fabric. Do you sense how soft it is? This makes your T-shirt so comfortable—for you and the lady who hugs you.
Have you noticed? No logo on your chest. Our Frenchman silhouette is discreetly printed inside—only the connoisseur will know.
Check who's wearing it. The men who wear GoudronBlanc are gentlemen. They will almost always smile at you.
Yes! You're right. GoudronBlanc is all about
style
and
quality
.
Your new favourite!
We all have a favourite T-shirt.
Remember that super comfy shirt you've kept for years?
In 2011, we decided to recreate that experience, but with a T-shirt that make you look sharp:
A T-shirt so elegant that you want to wear at any occasion
A fabric that feels so nice that you can see how soft it is with the naked eye
Natural and breathable material, made of 100% organic cotton
A heavyweight jersey (200g/m2 and 220g/m2 for the white fabric) that makes your T-shirt so comfy to wear
One thing is sure: you will love Supradoo®, the fabric of GoudronBlanc T-shirts.
Our take on the polo shirt
After revisiting the T-shirt from every angle, we had a great vision to make the polo shirt a modern and urban garment.
How come?
The GoudronBlanc polo is slightly fitted
Its button placket is reinforced to add contrast
The collar is raised and made with a thick ribbed hem so that it looks sharp
The bottom of the polo has no side slit, reminiscent of the classic T-shirt
Try out the polo and you'll see how all these details make a big difference.
Many creatives and entrepreneurs wear GoudronBlanc at work
Augustin Paluel-Marmont
Cofounder of Michel & Augustin
Nicolas Ferrary
Ex-Country Manager at Airbnb